"There's a thing in AA, something they read in a lot of meetings, The Promises.
Most of those promises have come true in my life:
We'll come to know a new freedom and new happiness, that's true.
But it also says in there:
We will not regret the past nor wish to shut the door on it.
And I have no wish to shut the door on the past.
I have been pretty upfront about my past.
But do I regret? I do. I do. I regret the necessity."
Still, he feels pretty lucky, not least after a near-death experience in 1999.
King was walking down a road near his house when he was hit by a truck and thrown 14ft in the air.
There were no white lights, but it did get him thinking seriously about death.
"Our body knows things, and our brain knows things that don't have anything to do with conscious thought. And I think that it's possible, when you die, that there is a final exit programme that goes into effect. And that's what people are seeing when they see their relatives or a white light or whatever it is. In that sense, there may really be a heaven if you believe there's a heaven, and a hell if you believe there is one. But there's some kind of transitional moment. That idea that your whole life flashes before your eyes."
He smiles.
"Of course, they say about co-dependents – people who grow up around alcoholics – that somebody else's life does."
It is this moment of transition that Doctor Sleep deals with and the idea, like so many of King's, came from an incidental story in a newspaper.
This one was about "a cat in a hospice that knows when people are going to die.
He would go into that patient's room and curl up next to them.
And I thought, that's a good advertisement for death, for the emissary of death. I thought,
'I can make Dan the human equivalent of that cat, and call him Doctor Sleep.'
There was the book."
The idea of codependency may have its roots in the theories of German psychoanalyst Karen Horney. In 1941, she proposed that some people adopt what she termed a "Moving Toward" personality style to overcome their basic anxiety.

Essentially, these people move toward others by gaining their approval and affection, and subconsciously control them through their dependent style.
They are unselfish, virtuous, martyr-like, faithful, and turn the other cheek despite personal humiliation.
Approval from others is more important than respecting themselves.
The term codependency is most often identified with Alcoholics Anonymous and the realization that the Alcoholism was not solely about the addict but also about the family and friends who constitute a network for the alcoholic.
"The term "codependent" is used to describe how family members and friends might actually interfere with recovery by overhelping."
The application of this term was very much driven by the self-help community.
Janet G. Woititz's Adult Children of Alcoholics had come out in 1983 and sold two million copies while being on the New York Times bestseller list for 48 weeks.
Robin Norwood's Women Who Love Too Much, 1985, sold two and a half million copies and spawned Twelve Step groups across the country for women "addicted" to men.

Melody Beattie popularized the concept of codependency in 1986 with the book Codependent No More which sold eight million copies.

In 1986, Timmen Cermak, M.D. wrote Diagnosing and Treating Co-Dependence: A Guide for Professionals.
In the book and an article published in the Journal of Psychoactive Drugs (Volume 18, Issue 1, 1986), Cermak argued (unsuccessfully) for the inclusion of codependency as a separate personality disorder in the Diagnostic and Statistical Manual of Mental Disorders (DSM-III-R; American Psychiatric Association, 1987). Cermak's book paved the way for a Twelve-step take-off program, called Co-Dependents Anonymous.
The first Co-Dependents Anonymous meeting was held October 22, 1986.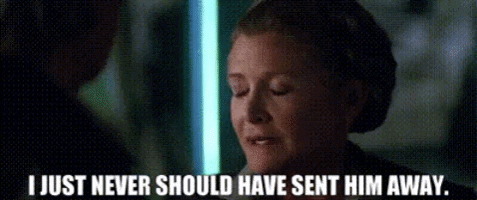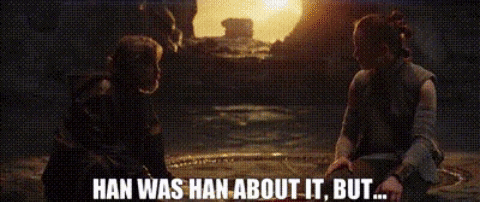 I'd rather not do this now.
KYLO REN:
Why did you hate your father?
Do you have something, a cowl or something you can put on?
Why did you hate your father?
Give me an honest answer.
You had a father who loved you, he gave a damn about you.
No? Your parents threw you away like garbage.
But you can't stop needing them.
It's your greatest weakness. Looking for them everywhere.... in Han Solo.... now in Skywalker.
Did he tell you what happened that night?
No. He had sensed my power, as he senses yours.
That's the only way to become what you were meant to be.
I should have felt trapped or panicked. But I didn't.
This didn't go on forever, I knew it was leading somewhere.
And that, at the end, it would show me what I came to see.
FEMALE VOICE:
Rey.
REY:
Let me see them. My parents... please.
I thought I'd find answers here.
I was wrong. I've never felt so alone
KYLO REN:
You're not alone.
REY:
Neither are you.
LUKE:
Rey?
REY:
It isn't too late.
LUKE:
Stop!
REY:
It is true?
Did you try to murder him?
LUKE:
Leave this island now!
Stop. Stop! Did you do it?
LUKE:
I saw darkness. I'd sensed it building in him.
I'd see it at moments during his training.
But then I looked inside...
and it was beyond what I ever imagined.
Snoke had already turned his heart.
He would bring destruction, and pain, and death...
and the end of everything I love because of what he will become.
And for the briefest moment of pure instinct... I thought I could stop it.
It passed like a fleeting shadow.
And I was left with shame... and with consequence.
And the last thing I saw... were the eyes of a frightened boy whose master had failed him.
Ben, no!
You failed him by thinking his choice was made.
There is still conflict in him.
If he turned from the dark side, that could shift the tide.
This could be how we win.
This is not going to go the way you think.
It is. Just now, when we touched hands...
I saw his future. As solid as I'm seeing you.
If I go to him, Ben Solo will turn.
Then he is Our Last Hope.
The tree, the text, the Jedi.
I'm going to burn it down.
Ah, Skywalker, missed you, have I.
So it is time for the Jedi Order to end.
For you to look at a pile of old books, hmmm?
Page-turners they were not.
Yes, yes, yes.
Wisdom they held, but that library contained nothing that the girl Rey does not already possess.
Skywalker, still looking to The Horizon.
Never here, now, hmmm?
(pokes Luke with his walking stick)
The need in front of your nose. Hmmm?
LUKE:
I can't be what she needs me to be.
Heeded my words not, did you?
Pass on what you have learned. Strength, mastery.
But weakness, folly, failure, also.
Yes, failure most of all.
The greatest teacher, failure is.
Luke, we are what they grow beyond.
That is the true burden of all Masters.